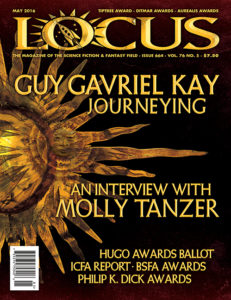 This month's Locus has a familiar name on the cover…
Yeah, what? I dunno! At ICFA, back in March, Locus asked if they could interview me. I had a lovely time chatting with Liza Groen Trombi, who was so fun and interesting it was very hard to stay on topic, and then we goofed around taking ridiculous glamour shots of me for a while. Anyway, the result of that pleasantness is an interview entitled "Ghosts 'n' Shit," which is apparently one of if not the cuss-heaviest interview they've run, according to another editor.
In it I talk about Vermilion, The Pleasure Merchant, and the novel I just turned in to my agent, The Ginger Eaters, along with some other stuff… like the journal I used to keep as a kid where I'd go about my day surrounded by invisible snarky dragons. You can legit buy this at like Barnes & Noble. It's on the news stand! So cool. Many thanks to the Locus crew for the fun time, the I'm sure brutal process of editing my interview into something coherent, and the gorgeous design and layout.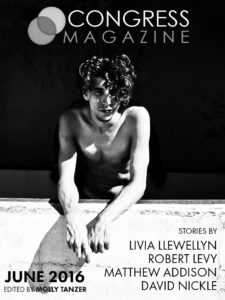 Additionally, here's the cover for Congress for our debut issue next month:
Stories by Livia Llewellyn, Robert Levy, Matthew Addison, and David Nickle. I'm really stoked about this. Not only does it look gorgeous (just wait until you see the site! Jeremy is a wizard) but the stories are all top-notch smut, this time all with a speculative bent. Not all issues will be so fantastical (or science fictional) but I'm excited it has a bit of genre flair.
I'm reading for the next issue already. If you have a pitch, query me. If you have a story with me, hold up I'mma gettin there.
Swords v Cthulhu is coming out this year, official cover release will be soon I hope, plus pre-ordering and such. Look for it soon! It's pretty, and I'm so proud of the work our authors put into this book.
Otherwise… woof, I dunno. I'm working on the first short story I've written for myself, not for an anthology, in literally years, and it's giving me back a bit of my joy over short form writing. This isn't to say I'm not thrilled to have had two short stories accepted into anthologies already this year: "Cognac, Communism, and Cocaine," co-authored with Nick Mamatas for Through a Mythos Darkly, ed. Glynn Owen Barass and Brian Sammons, and "That Nature Which Peers Out In Sleep," for The Madness of Dr. Caligari, ed. Joe Pulver. It's just that as someone who isn't a particularly prolific short writer, having every single one I write be for a specific purpose, and for anthologies with lots of vision but a limited audience, has burned me out a little.
Perhaps I will muse on that more later. For now, I'm excited to finish this story—for love!—and begin the thrilling process of submitting to magazines again.