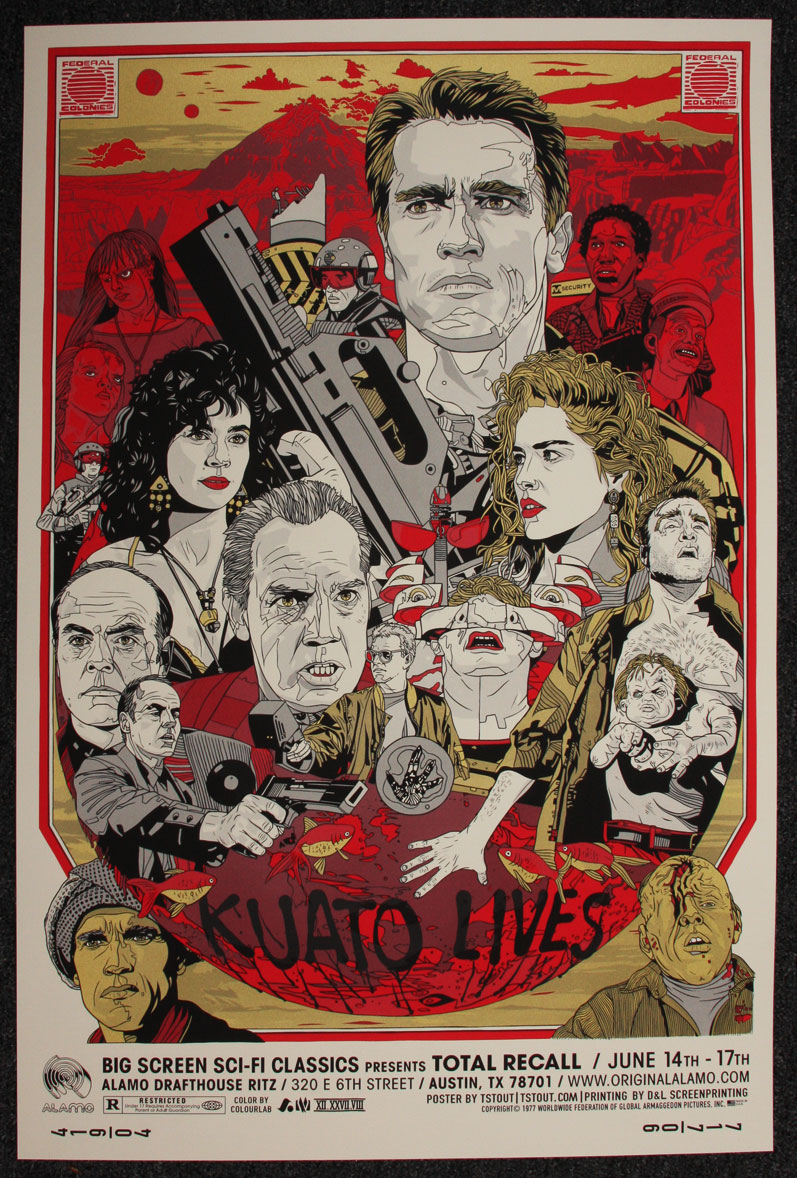 After next week's post up at Fantasy, "Films of High Adventure" is going on hiatus for a while due to Jesse and myself needing to devote more time to other projects. But! This week we celebrate my dad's birthday by watching one of the movies he showed me as a wee Tanz: it involves Mars, red money (Mars is red!), red dust, red blood spurting out of people, and a red-faced Austrian body builder as a secret agent who thinks he's a construction worker who thinks he's a secret agent. Maybe. What could it be?
Film: Total Recall (1990)
WHOSE RESPONSIBLE THIS??? Direction again by dirt-dog par excellence Paul Verhoeven (Starship Troopers, Basic Instinct), his follow-up to last week's RoboCop. Final screenplay by half a dozen people after dozens of attempts (including one by Pier Anthony) to adapt a Philip K. Dick short story that featured very few gunfights and mutants—of those who penned the final version, most notable is Dan O'Bannon (Alien, Return of the Living Dead). Soundtrack by Jerry Goldsmith (Pretty Much Every Cheesy Action Film From the Last Three Decades) and some decent special effects by frequent Verhoeven collaborator Rob Bottin (RoboCop, The Thing). "Acting" by Films of High Adventure All-Star Arnie Schwarz, Sharon Stone (so, so many turkeys), Rachel Ticotin (uh, Con Air), Ronny Cox (the main OCP baddie in RoboCop), Marshall Bell (the coach in A Nightmare on Elm Street 2, Magistrate Claggett in Deadwood), and the dependably angry Michael Ironside (Scanners, Starship Troopers)
Quote: "You blabbed, Quaid! You blabbed about Mars!"
Alternate quote: "YOU BLEW MAH COVAH!!!"
Alternate alternate quote: "Two weeks."
First viewing by Molly: I have no idea. Young, young, young. My dad got really excited when it came out, and so it was one of the rare grown-up sci-fi action movies I saw as a kid.
First viewing by Jesse: Elementary school—another one my dear, departed grandmother showed me.
Most recent viewing by both: A couple of weeks ago.
Impact on Molly's childhood development: I thought it was pretty fucking cool, that's for sure. I was never a huge Arnold fan—I found him alarming as a child, and still do, honestly—but I remember being impressed by the things that impress children inclined towards mutants, three-tittied hookers, psychically-implanted memories, and x-rays that show guns, too.
Impact on Jesse's childhood development: Decent. I generally preferred fantasy to sci-fi but this one had mutants and ultra-violence, so it was alright by me. I remember not understanding that atmospheric pressure affected the human body and thought the reason Arnie et al inflated on the surface of Mars was that the red sand was poisonous or something. That shit freaked me right the hell out:
Random youtube clip that hasn't been taken down for copyright infringement:
Molly's thoughts prior to re-watching: Pretty excited. My dad's birthday was the 16th of November, and I wanted to do this review this week in celebration of his enthusiasm for science fiction and fantasy that was so formative for me. I didn't recall (oh ho!) much of the film other than the asphyxiation sequence at the end and the three-tittied whore, quite frankly  [Jesse says: also, dude, three-tittied whore is not the preferred nomenclature. Tri-breasted sex worker, please].
Jesse's thoughts prior to re-watching: Cautiously intrigued, as I am with most Verhoeven screenings these days. That he has talent is undeniable; that he uses said talent in the service of vicious, intentionally trashy indulgences of his nihilism is equally undeniable. Yet I seem to remember this one having an honest-to-goodness, no-strings attached happy ending. . . which of course made me think I must have missed something the first time around.
Molly's thoughts post-viewing: I feel like there's a whip-smart sci-fi action movie lurking behind the façade of Total Recall. By this I mean that the film could have spent a lot more time exploring the nature of memory and subjective reality, but chose instead to over-rely on chest-thumping and man-worship. That said, it's still fucking awesome in the way only big-budget sci-fi action movies can be: loud and bullet-riddled, and filled with questionably-futuristic technology, hot babes, awesome dudes, evil corporations, and cool stuff.
I think I prefer RoboCop of these two films simply because it manages to be (1) gorier, (2) smarter, (3) populated with more interesting characters, (4) more violent, and (5) less misogynistic all at the same time. That's no small feat, but it's true. That said. . . Total Recall will always have a place in my heart, like Legend, in that even though they're both questionably good, I saw them at a young enough age that they were utterly mesmerizing and highly educational. Also, Total Recall is obviously the forerunner of Tank Girl, which I didn't realize until this re-watch. Really! Tank Girl substitutes post-apocalyptic earth for Mars and a suit-wearing corporate grey-haired water lord for a suit-wearing corporate grey-haired air lord. Psychic mutants become warrior-kangaroo-men, and hey! Presto! A script! Sort of [Jesse says: think I still prefer Tank Girl, though—Ronny Cox is good, but he is no Malcolm McDowell, and Arnie sure as shootin' ain't half the thespian Lori Petty is].
Anyways, there's apparently a remake in the works, and it'll be interesting to see what a 21st century overhaul of this film might look like [Jesse says: maybe with Colin Farrell! I have no idea what his career did to make him hate it so. . .]. I really like Verhoeven's grimy futures as seen in Total Recall and RoboCop, and if the new film is all shiny and Mac store-looking, I can't imagine it will be as good. I like that these two films look like they could be our real future; that they could be the near-future that will one day be the far-future of Wall-E. Verhoeven is far too cynical to make near-future films where somehow the world has, I dunno, decided all of a sudden that polluting rivers, littering, strip mining, and overproducing unnecessary commodities so we can all enjoy the planet's resources is Not Cool Anymore, since. . . well. Yeah. The evidence for that happening anytime soon is not particularly compelling. But in the true Verhoeven style, what we get is all that in the background, for the nerds to ponder. For everyone else, there's explosions and boobies and one-liners! Thanks, Mr. Verhoeven, for giving us what we want and then sneering at us for wanting it, as you laugh all the way to the fucking bank. It's what you do best.
Jesse's thoughts post-viewing: Molly's summation directly above is pretty much the most accurate description of his Hollywood output that I've ever read, and she also managed to connect Mr. Showgirls himself to Wall-E, no mean feat. For my money, Total Recall is decent viewing both by Schwarzie and Verhoeven movie standards, with many a well-executed effect, action scene, and bit of tawdry silliness to help grease the rails. The movie, as Molly pointed out, isn't nearly as clever as it should have been, and compared to the superficially simpler but surprisingly nuanced RoboCop it's fairly one-dimensional. Of course, that one dimension has mutants and nudity and mutant nudity and guns guns guns and fights fights fights, so it's not as bad as it sounds.
The scenes where the film strains to be more than a simple action movie and almost succeeds are easily the most interesting, such as when Sharon Stone and the doctor from Rekall try to persuade Arnie to take the red pill to wake up from his artificial reality (and no, I don't know why we didn't cover The Matrix for this month, either, other than neither of us could bear re-watching it anytime soon). Although the scene in question quickly devolves into grunting and punching and shooting, it's interesting to note that everything the doctor predicts comes to pass in the course of the film, which leads to the possible interpretation that Total Recall really is about a construction worker going crazy from a virtual vacation and not, as is usually thought, about a secret agent rediscovering his identity only to reject it for a nobler one.
The concept is never again overtly referenced in the film, but in the commentary Verhoeven somewhat gleefully offers that the fade to white that concludes the happy ending could be Arnie's character finally being lobotomized following the hallucinations that have made up the bulk of the film. Given the director's bleak track record, it's easy to hypothesize which version of events he favors. So much for that happy ending—thanks for another bedtime story about the human race, Uncle Paul.
High Points: All the classy moments, from Arnie using an innocent bystander as a human shield to just about any scene with Sharon Stone—such as when Arnie greases her and says "considah that a divorce." The part where Arnie takes the bug out of his nose. Definitely not Arnie's acting. Johnny cabs, which are an infinitely cooler method of knowing where you are than Garmin or Magellan:
Final Verdict: ARGHHHHHH!!!!!!! But, you know, in a good way.
Next Time: We conclude Memory, Humanity, and Dystopia Month with Blade Runner over at Fantasy Magazine.