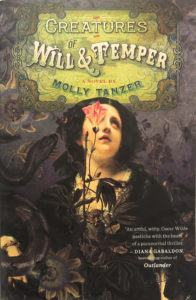 It's true. Creatures of Will and Temper is out! It'll be in your local B&N, or your local bookstore, hopefully, or definitely online at one of the links I've put up on the sidebar.
The critical response to the book has been very good so far. It's gotten kind reviews in Publishers Weekly (starred!), Library Journal, Booklist (link is to the reviewer's expanded review on her own blog), Fantasy Faction, and a few other place so far. This BookPage review really knocked my socks off.
I'm doing a Reddit AMA on 11/14, when the book drops on r/fantasy. Come and see me, ask me something! Anything!
Also on the 14th, I'm doing a reading at the Denver Tattered Cover, the LoDo location. Details at the link, show starts at 7.
The following Monday, the 20th, you can find me at the downtown Powell's in Portland, OR. I'll be reading there at 7:30!
I'll try to update things here as the book comes to life, but obviously I always go way too long between updates. If you're super invested in hearing about what's up with Creatures of Will and Temper I'd suggest following me on Twitter @molly_the_tanz, or on Insta @molly_tanzer. I consider FB friend requests a lot more carefully if they come with a note, but I also keep that account a lot more locked down than my public social media.