I'm only just back from WHC, as I detoured to Tallahassee after the con, and already I'm gearing up for my next (and final, for the time being) appearance at a convention. I've done four already this year, and while I find the con experience rewarding—in some regards—with many notable exceptions—promoting Vermilion has taken a toll on me, emotionally, creatively, and socially.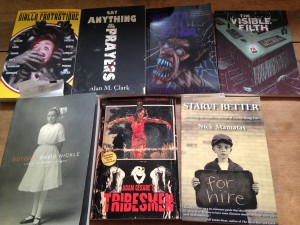 That said, WHC was a blast. I'm not really a con writeup kind of gal, but I was pleased to see old friends and make new ones. I also picked up a killer haul of books, as you can see. I've already read Eutopia and very much enjoyed it; next up I'm reading something I did not acquire at WHC but after that I'll probably pick up another score. (I picked up The Visible Filth before the con, but got it signed by Mr. Ballingrud, so it counts.)
Next up: DCC! Denver Comic Con is always entertaining for people watching, and my panel list is pretty cool. Come say hi, I'll sign your copies of Vermilion, and if you felt like picking one up—to have and to hold, or as an extra, in case you need a holiday or birthday present for a friend—the fewer books the Barnes & Noble table sends back, the better I look to that not insubstantial bookselling company, and my publisher. HINT HINT.
Where I'll definitely be:
Saturday, 10:35-11:25: The Foundations of a Freelance Writing Career. I don't currently have a description of what exactly this will be, but I assume it's pretty self-explanatory. With Josh Vogt, Kronda Siebert, Jessica Brawner, Vivian Trask, and Peter J. Wacks.
Saturday, 3:15-4:05: Strong Women in Film and Fiction. I'm moderating this one, so I'm going to try to mix it up a bit from the usual "Let's all argue about Daenerys Targaryen!" I know the conversation will inevitably turn to Black Widow, which is great since I won't have seen Age of Ultron by Saturday, and I'm not up on Game of Thrones and the apparent Rape of the Sansine Women that happened yesterday, but I'm going to try to direct the discussion to the issue of well-rounded female characters in fiction and film, and see what happens. With Kristi Helvig, Betsy Dornbusch, Sherry Ficklin, Stant Litore, Amalie Howard.
Saturday, 4:25-5:15: Steampunk in the Past, Present, and Future: Another self-explanatory one. Like Steampunk? Come on then! With Sherry Ficklin, Jessica Brawner, Tyler Jolley, Mario Acevedo, and David Boop.
Sunday, 2:30-3:20: That's a Laugh! Writing Speculative Genre Humor: What's it take to bring real humor into fantasy, science fiction, and even horror stories? With Josh Vogt, Jessica Brawner, Betsy Dornbush, Lou Berger, and Jim Butcher. Yes, that Jim Butcher!
Sunday, 4:50-5:40: Writing the Other. i.e. I've never been a female dwarven barbarian… so how could I possibly write about one? With Betsy Dornbush, Mario Acevedo, Kronda Siebert, Van Aaron Hughes, and Vivian Trask.