Starfest/DigiFest/HorrorFest/etc is this weekend! If you're going to be there, say hi. Here's where I'll be:
Friday, 6PM: Asian Cult Cinema Panel
Saturday, 3:30: Writing the Dark Side
Sunday, 12 noon: Multimedia Reading w/Jesse Bullington. We two are collaborating for ours as we'll be reading our co-authored story "Tubby McMungus, Fat From Fungus." If you're looking for it in the program, David Boop, Mike Hance, and Quincy Allen will also be reading.
But! Here's what you really came here for today: Tahini Blondies!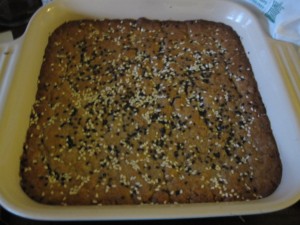 So I wanted halva but I couldn't be bothered to buy a candy thermometer. Thus: Tahini Blondies. Adapted from Vegan Cookies Take Over Your Cookie Jar, these are amazing tahini-ful squares of sesame bliss. Not for tahini-haters. If you're on the fence, try 'em—they just might change your world. Or at least your ambivalence about tahini.
Tahini Blondies
3/4 cup tahini (I used Joya)
1/4 cup vegetable oil
1 cup brown sugar
1/4 c. non-dairy milk
2 teaspoons vanilla extract
1  cup all purpose flour
1/2 teaspoon salt
1/2 teaspoon baking powder
2 tsp sesame seeds (I used a mix of white and black)
Preheat oven to 350 F. Lightly grease an 8×8  baking dish.
In a mixing bowl, use a fork to vigorously mix  together tahini, oil and sugar. Stir in milk and vanilla. Stir in  flour, salt and baking powder. The batter will be very very thick and won't spread on its own. Transfer to baking pan and press it into place. Sprinkle on the sesame seeds and lightly press them into the top.
Bake for 22-27 minutes, the edges should be just barely brown. The top will appear soft, that's okay. Remove  from oven and cool completely before slicing. I bolded that because they are super gooey if you don't. Also, I had to go the whole 27 because of altitude, so check yours at 22.