Apr 11 2014
First—I totally forgot to link my latest Dahl post, the March edition. Mostly it's about Chitty Chitty Bang Bang, but I also read The Vicar of Nibbleswicke. Fun times!
***
So, I went to Utah for the first time! It was amazing. My mom had heard about a place called Red Mountain Spa from a friend, and we decided to spend a few days out there, girls-style. Basically, it's a retreat where there's plenty of exercise classes of all types, including tabata (new to me!), TRX, yoga, etc. There's also a spa, where you can be pampered, if you so choose. They also have amazing food, with plenty of vegan options, so I ate really well. I mean… they had vegan prickly pear/coconut/lime sorbet one night. Who knew about prickly pear syrup? I mean, other than everyone who lives in/has visited desert climes. It's so good!
Maybe most exciting to me, however, was that Red Mountain backs up to Snow Canyon  State Park, which is… well: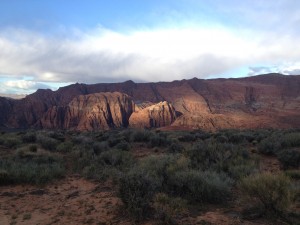 Omg, right? I was awed by the vistas the first morning, when my mom and I took their "Nature Walk" where we learned all about  plants and animals native to Snow Canyon. Really interesting stuff. I got to rub my hands in sagebrush and sniff creosote. I also got to learn that apparently ephedra grows in the desert, and people will just like, chew on it, coca-leaf style, on long hikes. I declined.
Hiking on sand and sandstone was a new experience for me. Colorado is all about
granite, which is super-slippery. I've fallen more than once, not just because I'm a klutz, either. But sandstone… you can Spider-man right up it! It's amazingly sticky. Also, in Snow Canyon, the sand (and the sandstone) are a glorious red-orange, as you can see.
I got to experience a lot of that sand, as the first major hike I took was called Fern Gully, which has like, an ocean of sand in the middle of it. We tore ass through it, though, like true badasses. Actually, that's what I loved most about Red Mountain—all the guides were so hardcore, but also so encouraging, you always felt like a barbarian hero tramping through the wilds no matter the level like you were taking. And I do love feeling like a barbarian hero.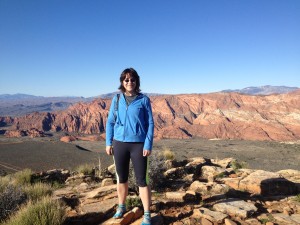 For example… the second day, I took a hike called Joan's Bones, which takes you up to a summit—and while usually I'm all about summits, this hike impressed me because the descent took you down the side of a cinder cone. Yes, can now say I've hiked down a volcano! What!
But, as the volcano was less scenic, the summit is to the left.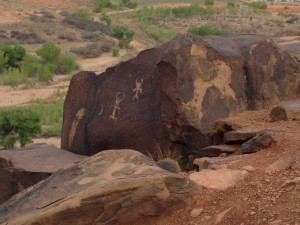 My final day, I saw some thousand-year-old Anasazi petroglyphs. I mean, really. That is just too awesome.
My mom and I had a great time. She enjoyed the hikes she took, including one where she hiked with shelter dogs (so adorable!), and took her first TRX class. We also attended  a seminar on mediation, which was fun! We both agreed they had great staff, everyone was extremely encouraging,  positive, and enthusiastic about hydration.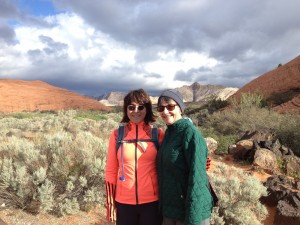 I mean, what more could you want?
After departing from Red Mountain, we took the St. George Shuttle back to Las Vegas, where we spent the weekend. I'd never been to Vegas before… I'm not a gambler, and I also hate crowds. But I have to say, I had an unexpectedly great time! Part of that was undoubtedly the quality of the cocktails that you can (apparently) get in Vegas—some of the best I've had. Part was discovering that recently, Vegas has added a surprising quantity and quality of vegan food to their menus.
But mostly it was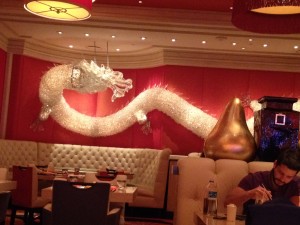 spending time with my mom and my husband (who flew in for the weekend), laughing at people and being simultaneously impressed and skeptical of the entertainments. I mean, John and I saw an animatronic frog in a cowboy hat rise up from behind an artificial waterfall to sing Garth Brooks at us. I… what?
Also, we ate beneath this friggin' dragon!
Good times. Now I'm back, and peace and quiet is most welcome. Though honestly, I'm already missing the serenity of Snow Canyon! I hope to get back there some day.