Aug 2 2016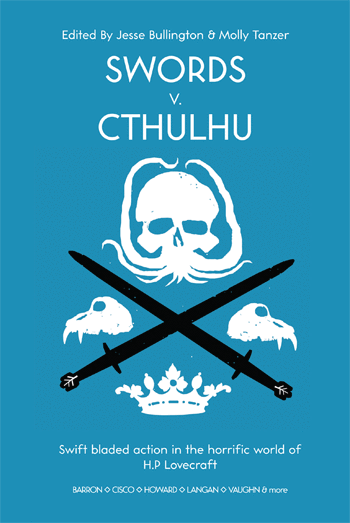 Swords v Cthulhu is out, and you should get it… seriously. It's been getting some nice reviews here and there, and features stories by Carrie Vaughn, Jonathan L. Howard, Wendy Wagner, Caleb Wilson, and so many more. Amazon's a great place to get it, and so is the Stone Skin Press site!
Also, Congress Magazine #2 is live as of today, and we've got stories this month from Andrew S. Fuller, Jesse Bullington, and Cecilia Tan. This month also features an interview with Chuck Tingle, who is up for a Hugo this month in Kansas City, where, come to think of it, you can find me, since I'll be there. My first WorldCon ever!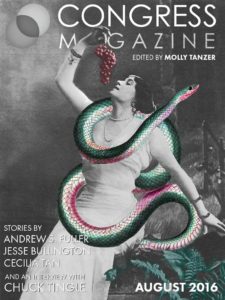 But I'm not just working on edits… I'm also doing research for one of my next projects, my co-edited flash fiction and cocktail mixology manual, Mixed Up!, that I'm co-editing with Nick Mamatas. It'll be out next year, and I'm already excited as I'm the drinks editor. I'm a bit tipsy (you'll see why soon) and that means I get to wax prosy all about my cocktail opinions. Which, let me tell you, I have cocktail opinions.
Take the mint julep for example.
The mint julep is one of those drinks that gets a weird reputation. Not a bad one, not necessarily, but let's say it's a drink that's easy to mess up. Which is a shame, because when it's done right, it's a drink you really want to savor. Mostly because when it's done right it has four ounces of booze…
Anyway, I don't want to tell you how to live your life, but if you want to experience pure summer in a cup, you might want to check out this little photo essay on making a peach mint julep.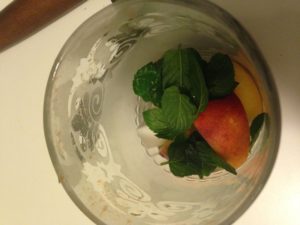 First, throw four or five of chunks of ripe peach into a nice big glass. Add a bunch of mint. More than you think. Also a sugar cube. Put a bit of water in there, too. Just a splash, and make it cold.
Muddle the heck out of this mixture. Go nuts. Bruise the heck out of the mint and pulverize the peaches.
Don't be shy.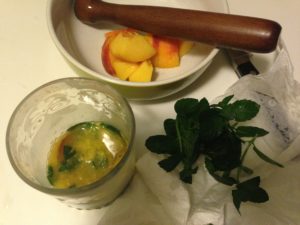 In the end, it'll look like this: a slurm of pulp and mint and sugar and oh, it'll smell like you want to just do a shot of it immediately.
But wait.
Next, you'll add in the booze. I know this will seem intense, but trust me… pour in 2 oz of cognac, and then 2 oz of rye whisky, or bourbon if that's what you have. Rye's better, but bourbon is just fine.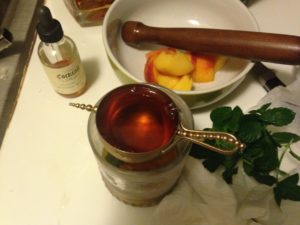 If you happen to be lucky enough to have some Palisades Peach cocktail bitters, use those too.
Okay, now you have a huge mixture of just delicious things. But, it's not cold, and let's face it, it's gotta be cold. So crack some ice. A lot. More than you think you need, trust me. DO NOT USE CUBES. If you have to smash it in a plastic bag, go 'head. But if you're smart, you'll Prime an ice crusher. Why not? You're worth it.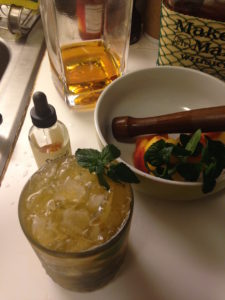 So, pour in a lot of ice, but pause to layer in mint, and ice, and mint, and ice, until you have just a lot of booze, ice, and peach-mint slurm. Put in a sprig of mint, and then…
Yeah. That's right. Look at that thing. Garden mint, tree-ripened peaches, ice, liquor, peach bitters… sip it over the course of an hour or so, if not more. I'm usually a fan of slamming a cocktail—they're supposed to be cold!—but a julep like this is a sipping drink. Take it slow. Relax.
Anyway, happy drinking! And happy reading. In fact, why not combine the two? I can't imagine anything better than a drink like this paired with an afternoon or evening with eldritch tales of derring-do or sultry sexy times.