Jun 9 2017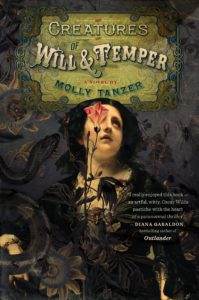 Creatures of Will and Temper is available for pre-order on Amazon! So, if you think a feminist retelling of The Picture of Dorian Gray with sword fighting and demons sounds cool, please do pre-order it or mark your calendars to go into a brick-and-mortar to pick it up when it comes in!
Many people agree with me that you should do this… among them, Diana Gabaldon, bestselling author of Outlander, whose blurb graces the cover, and who just causally name-dropped my novel today in The Washington Post. Yes, that Washington Post! 
Here's a roundup of what people have had to say about this book (out Nov. 14th, mark your calendars, or just have an online store send you a copy the moment it's available!)
"An artful, witty, Oscar Wilde pastiche with the heart of a paranormal thriller." — Diana Gabaldon, bestselling author of Outlander
"A delightful, dark, and entertaining romp… Molly Tanzer is at the top of her form in this beautifully constructed novel. Sure to be a favorite of readers and critics alike." —Jeff VanderMeer, bestselling author of Annihilation and Bourne
"Creatures of Will and Temper is a wild ride from start to finish, beautifully and boldly written, and a most worthy successor to Oscar Wilde's scandalous novel." —Amy Stewart, bestselling author of Girl Waits with Gun and The Drunken Botanist
"Decadent Victorians clash with dueling demon-hunters in this sharply-observed, page-turning reinvention of Oscar Wilde's classic tale. —Charles Stross, award-winning author of The Delirium Brief
"Creatures of Will and Temper is a smart, gorgeously written book about passion, loyalty, and love in many forms." —Kat Howard, author of Roses and Rot
"A perfectly queer homage to The Picture of Dorian Gray, Creatures of Will and Temper is a story of acceptance, of understanding, of correcting erroneous first impressions, and the bond of a disparate group of individuals in a shared bad situation. It is a timely story, and one that I think we all need right now." —Sarah Lynn Weintraub, Books Manager, Pandemonium Books and Games
Comments are closed.