Jun 21 2016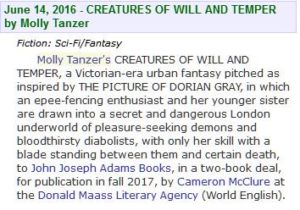 Last week this was announced:
Regular readers of this blog (and those who checked out my fancy Locus interview) will recognize the novel as the formerly titled The Ginger Eaters. Which, cool title, but not as cool as Creatures of Will and Temper, which is gorgeous and resonates much better. The second book of the (ahem) two-book deal is as yet untitled, but it will be a related project. Sort of a sequel, sort of not. Anyway, I couldn't be happier to be with JJA Books, an imprint of Houghton Mifflin Harcourt, joining my friend Carrie Vaughn, author of the Golden Age series and the Kitty the Werewolf books, and Hugh Howey of Wool fame.
In other news (somehow there is other news!) I also sold a story to Lightspeed Magazine. "Nine Tenths of the Law" is about Denver International Airport conspiracy theories and the slow death of a marriage. Both my editors described it as "fun," which concerned me. Well, there is plenty of weird sex along with those aforementioned conspiracy theories!
Speaking of weird sex, Congress launched, and it looks gorgeous. Please check out our four fantastic stories, and our sponsor, Twisted Monk, purveyors of artisanal bondage rope. Not only is it fancy, they're donating 5% of all sales to a relief fund for victims of the Pulse Nightclub massacre, which means they're doing more about that awful tragedy than most of the Senate Republicans in this country.
Well, that brought down the tone, so I should probably get back to it!