Nov 17 2015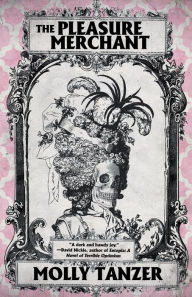 Well, today is the day. The Pleasure Merchant is released into the world.
It's weird. I'm not sure what to say other than that I really love this novel. It's my most personal work to date; it is absolutely one of those "yep, this is the movie that's playing in my mind, all day every day, so now you know what I'm thinking about all the time" novels, as well as being the least speculative thing I've written. It's also my first attempt at crime fiction, and playing with those conventions and tropes was super fun.
I've already posted reviews and blurbs, I've quipped about the apparent bawdiness level, and I dunno, I'm not sure what more there is to say except I hope it is read, and I hope that it is enjoyed.
If you would like to purchase The Pleasure Merchant, you can of course order it through your local bookshop or Barnes & Noble, but the easiest way is probably the Internet, seeing as it's an indie release:
There will be a Nook edition forthcoming, I'll announce when that's available.
Anyway, this is probably super obvious but I really did write this one because I wanted to share it with you. I knew when I wrote the first line that it would come out through a small press; I knew it would be odd, I knew it would be sad and sexy and way too revealing. But I had it inside me, and I wanted to show it to everyone, for better or for worse. I mean, literally the first line of the novel is:
I have a story to tell you.
So… I did. And it was worth it, at least to my mind.
I hope you feel the same.