Jun 16 2015
I've had my car since the fall of 1999. My family lived out in the boonies and my senior year, my high school stopped bussing me, so my father and I went car shopping. He was a big Consumer Reports guy, watched Motorweek every weekend, and was up on which cars were good and which cars were garbage. Well, he picked a good one, when he suggested we test drive the Mazda Protege, because that car has proven to be amazing. In 16 years, it has had exactly one major thing go wrong with it—it slipped the timing chain, which is supposed to destroy the engine. It didn't. My car survived, and it's still great.
I noticed my car was approaching 100,000 miles and wanted to do something fun to celebrate. So, last Sunday my husband and I took it on a nice drive in the mountains. We went up the canyon to Nederland and then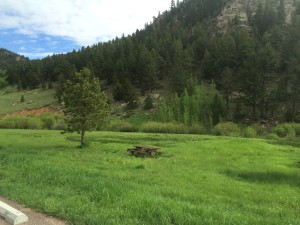 drove across Peak to Peak Highway until we reached Golden Gate Canyon State Park, which is outside of Golden. That's when things got interesting.
"You should drive," said John, and pulled us over.
"Okay…" I had wanted to drive my car over 100,000, but we were still several miles out at this point, and at elevation—we still had to come down through the canyon. "Now?"
"Sure, why not?" said John.
I don't dislike driving through the mountains, but I confess I'm usually a passenger. Thus began our fascinating descent where I noticed nothing but the road, and downshifting. There could have been a herd of jackalopes on the side of the road. I wouldn't have noticed. But, I got us down, and I learned what overdrive is, and how to use it. It was pretty terrifying.
Anyways, we didn't quite make it over 100,000 coming down, so we decided to cruise into Golden, a far less scary prospect. Eventually we hit 100,00 coming over a hill and beholding one of the lovelier areas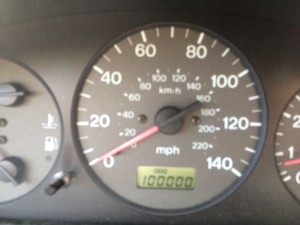 outside of Golden, close to the welcome center for Dinosaur Ridge. I have always wanted to go, so we pulled over. It was closed. Ah well, it was not for dinosaurs that we came, but to celebrate my car's turning over into the triple digits!
I look forward to many more years of trouble-free driving with my car. This is just fine by me. I like things that last, and while there are certainly newer and shinier cars out there, my car… is mine. Sure, I enjoy driving our Land Rover when it's snowy. Sure, my husband and his colleagues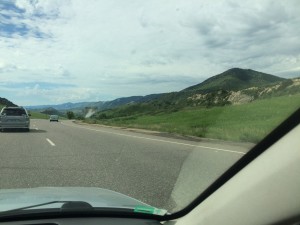 at his automotive program marveled at my devotion to this vehicle (as well as the vehicle's continuing excellence). Sure, the paint is peeling off the top, and the interior is shabby, the floor mats are all cracked, and from day one the seal around the windshield has made a strange oooooooooooeeeeeeeeeeeeeeee noise whenever it's driving on a highway and the wind is hitting it right. Who cares? Things don't have to be pretty to be useful, nor do they need to be elegant to be dependable.
Congrats, little silver car, on hitting a major milestone. You're the best. I hope I drive you for 100,000 more miles!