Mar 7 2015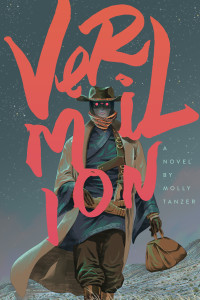 Wow, last week was a whirlwind when it came to my weird little debut novel!
I finally put Vermilion in the bag (good thing, too–as it's out next month!). I have confidence it's as good as I can make it, which is a wonderful feeling, moving forward with the project.
Also, the cover was revealed… and what a cover it is! Gaze upon the glory. The majesty. The font! I've seen a draft of the back, and it's astonishing as well. That's still being worked on, however. I'm really grateful to the time and attention put into this fabulous piece of art by Dalton Rose, the artist, and Osiel Gomez, the designer.
Finally… okay, I'm still kind of jittery and excitable about this… but Vermilion got a STARRED review in Publishers Weekly!
Tanzer's first novel is a splendid page-turner of a Weird West adventure. Elouise Merriwether is a psychopomp, tasked with escorting newly deceased souls to the afterlife. Half Chinese and half English, with a bizarre job that few people understand, she struggles to find a place for herself in 1870s San Francisco, often vacillating between pluck and self-effacement. When her mother asks her to investigate why young Chinese men are going missing after being offered jobs in Colorado, Lou agrees to turn detective, but she's bitten off way more than she can chew, especially once she runs up against the mysterious Dr. Panacea and his possibly fraudulent Elixir of Life. This hugely entertaining mixture of American steampunk and ghost story is a wonderful yarn with some of the best dialogue around.
Vermilion has been a long time coming, but I'm very proud of it, and I'm really glad the first review in the world is so enthusiastic. It seems like the reviewer "got" Lou and the project itself, which is wonderful, and hearing that the novel is a "page-turner" ain't bad.
So! Vermilion is off to a pretty good start, I think it's safe to say. If you're interested in helping keep things going that way, consider pre-ordering. Pre-orders count towards crucial first week sales, so it's a lovely way to show your enthusiasm for an author and his/her work. Plus, the bundle via Word Horde includes a signed copy, and an ebook in the format of your choice! You can keep one for yourself and give one as a gift!
You can also keep the enthusiasm in the air by adding the book to your "want to read" pile on Goodreads (and reviewing it there, and on Amazon of course, once it's out).
So! I'm off to do weekend things. Starred review means I get to treat myself to breakfast at Dot's Diner. Mushroom gravy slathered breakfast burrito… here I come!
Comments are closed.