Mar 31 2015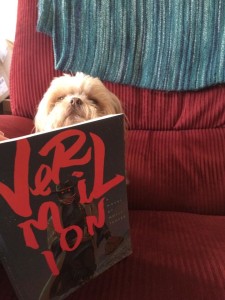 Behold! 
Yes, Vermilion is very nearly out. I'm so excited! People responded very well to the reading I did at AnomalyCon last weekend, which was lovely. Thank you to all who attended, and as for the two attendees who walked away with ARCs, I hope you enjoy the full story!
So, yeah! Keep your eyes peeled for copies in the wild over the next few weeks (and I'd be very grateful if you would ask for the book and Word Horde titles by name at your favorite local bookseller or library if you don't see it on the shelf). The book is also imminently on Amazon and other online retailers, if you don't have a favorite local spot to shop.
Inevitably I'm having a few first-novel jitters, but I'm cautiously optimistic about Vermilion. After all, two of my favorite authors had very nice things to say about the novel, which is lovely:
"Vermillion is fresh and strange—a dark and sparkling story of magic, monsters, and mystery in the Old Weird West. Gloriously weird and heartfelt, it's a credit to the genre from start to finish."

—Cherie Priest, Award-Winning Author of Boneshaker and Maplecroft
Cherie is an amazing writer, and an amazing person, too! Maplecroft was one of the best books I read last year. I'm beyond tickled she enjoyed Vermilion.
As if that wasn't exciting enough, another of my must-read authors also found the book to his taste…
"Tanzer's debut novel is extraordinary, portraying a world that is engagingly curious and curiously engaging. One doesn't realise how much one's life has been missing a story about a Chinese/English buster of violent ghosts out in the wilder end of the Wild West until one reads this. Plus, talking bears."

—Jonathan L. Howard, author of the Johannes Cabal novels and the forthcoming Carter & Lovecraft 
Any regular reader of my blog knows how much I admire Jonathan Howard's work, so it means an awful lot to me that he enjoyed the book.
Finally, The Monitor reviewed Vermilion a few weeks ago, for their Top Shelf column, and had exceedingly nice things to say about it:
"Tanzer's writing, as always, is a delightful meld of period-authentic language and modern sensibilities. Snappy, often hilarious dialogue is embedded in a deftly written narrative thread that gives plenty of room for characters to breathe and evolve. The world-building is fantastic and leaves many opportunities for follow-ups: I for one really hope this is the beginning of a series, as I want desperately to see Lou — an amazingly round and compelling protagonist — back in San Francisco, doing what she does best.

Vermilion abounds with relatable, human characters of various genders and sexual orientations. LGBTQ issues are folded into the supernatural plot with respect and care, focusing on the emotional and interpersonal repercussions in a refreshingly gentle but frank manner.

An amazing debut novel from an author to be reckoned with, Vermilion is most definitely Top Shelf."
Top Shelf? More like Top That!
You can read the full review at the above link, which sums up the novel better than I've ever managed—so, if you still have questions about the book, that's a great place to check it out!
You can still order Vermilion directly from Word Horde, but as I said, it should be showing up elsewhere very soon. Oh, and as for those of you who pre-ordered, thank you! I confess my signature is awful, so I tried to spice up your bookplates a little. I hope you enjoy!