Feb 24 2015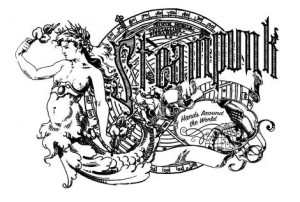 In anticipation of the release of my Steampunk Weird Western, Vermilion, my dear friend and steampunk expert S.J. Chambers introduced me to the lovely Kevin D. Steil. Kevin is the creator/editor of Airship Ambassador, which hosts a yearly event called Steampunk Hands Around the World. This year's theme is Steampunk: Our Playground, Our Classroom, Our Workshop. I'm a little late to the party (it's the last week of the event) as my copy edits for Vermilion took quite a bit out of me, but better late than never! And if you're interested in what other participants have been doing as I agonized over commas, you can check that out here.
Though I'm just writing about all this now, the theme "Our Playground, Our Classroom, Our Workshop" had me thinking as I poured over Vermilion, re-checking various historical details and knowing that in spite of my best efforts, I would inevitably miss something. And I'm not just talking about a clunky sentence or a dropped word… I mean something more akin to an anachronism, an incorrect detail, a bit of "common knowledge" I never questioned. I loved researching Vermilion, but it was an experience as intense and humbling as it was rewarding, and today I'm going to blog about why.
Vermilion is set in 1870, in an alt-historical America where ghosts, monsters, and talking bears are as much a part of the landscape as people, trains, guns, and purveyors of quack remedies. That said, certain familiar elements remain—the Transcontinental links the West with back East, road agents hunt down and terrorize travelers, diseases like tuberculosis are as dangerous as they are difficult to cure, and it's hard to get a fair shake if you're not white, wealthy, and male.
Lou Merriwether is none of those things. She's half-Chinese, works for a living, and she's a woman, even if she usually passes as a man while she tramps all over San Francisco, exorcising the restless dead. Lou does well for herself, but that doesn't mean things are easy for her; in fact, where the novel opens, anti-Chinese sentiment in San Francisco affects her personally and professionally on a daily basis. In spite of this, she tries to maintain a sense of humor, but that doesn't mean she's not aware of how annoying (and dangerous) being different can sometimes be.
When I first began to draft Vermilion, then a very different novel with a very different title, I knew I wanted a protagonist who lived on the margins, and whose identity (and sense of that identity) would create difficulties for her as much as it allowed her to access interesting opportunities. Vermilion is very much about the marginalized—19th century racial and sexual politics are reflected in the action as much as discussions about sickness versus health, insider versus outsider status, martial prowess versus strength of a different sort—and I wanted the novel's point of view to be someone flexible enough to negotiate with everything with… let's call it "a varying degree of success."
For Steampunk Hands Around the World, the theme of "Our Playground, Our Classroom, Our Workshop," inspired me to blog about a little about some of the historical and cultural research I did for Vermilion. As with all of us, Lou's childhood experiences inform her personality, her lived experience, her work, and her decisions, so I wanted to read and learn as much as I could in order to bring her (and her world) to life. One of the reasons I enjoy the challenge of writing historical fiction is I love to research! It's exciting to lose myself in the past, whether it's picking up a work of fiction from a different time and place, or looking up what are considered to be the best nonfiction books on a certain subject. While I might jot down random notes or ideas during the drafting process, reading is how I know I've really and truly begun a new project.
When I began in earnest to work on Vermilion, several books in particular were extremely helpful to me:
Iris Chang's wonderful and detailed accounts provided much of the backdrop I needed to create my alt-history Chinatown, and The Children of Chinatown was a fantastic study that helped me imagine what someone like Lou's early life might have been like. Given that Lou must do some detective work, supernatural and more traditional, the tales of Judge Dee gave me some insight into the specifically Chinese detective novel, and Yutang Lin's treatment of the Tao Te Ching, which pairs the original insights of Laotse with commentary by his follower Chuangtse, was most informative when it came to developing Lou's personal philosophy toward life, death, and undeath.
While I love reading, and curling up with a history book is one of my favorite things in the world, I also wanted to do some more "hands-on" research. To that end, my husband and I took an anniversary trip out to San Francisco a few years ago, to relax and hang out, but also so I could walk the streets Lou would have walked. We had a great time visiting landmarks and poking around in shops, and he was very patient as I spent several hours taking notes at the Chinese Historical Society of America's wonderful museum. I also consulted with an apothecary and got a TCM prescription filled at the Great China Herb Company.
Learning about language was also part of my research. A large portion of the Chinese immigrants who lived in San Francisco and worked on the Transcontinental came over from Toisan, called Taishan in Mandarin, and Hoisan by native speakers. I initially hoped to use Toisanese when I needed to use a Chinese word, but after a few conversations with a native Toisanese speaker, on his advice I ended up using mainly romanized Cantonese pronunciations. Negotiating with Cantonese was fascinating if frustrating, as I neither speak nor read any Chinese, but my Toisanese contact as well as my very patient friend-cum-scholar of Asian languages Raechel Dumas got me through it in the end.
I cannot conclude this essay without mentioning several wonderful films that not only initially inspired the project, but actually helped me in my research into what would become Lou's profession. The truth is, my interest in Taoist necromancy and geung si began with a film: Mr. Vampire. It's an awesome flick, and I followed it up with watching many more in the Hong Kong vampire genre. Here's an incomplete list for any curious cinemaphiles out there:
Crazy Safari (on YouTube, it's amazing, you should watch it)
The Hollywood picture Big Trouble in Little China is also worth a watch, if you've never seen it. I once pitched Vermilion as being set in the historical past of that film. It made sense to me, at least!
Writing historical fiction requires all kinds of research, but as much as I wish I could share everything, I want to keep my focus in this essay. And on that note, I'll conclude. Many thanks to Kevin for hosting and promoting Steampunk Hands Around the World, this was a fun opportunity and I'm so glad I got to participate!
Oh, and if any of this sounds intriguing… well, Vermilion drops on April 15th, and can be pre-ordered now. There's even a fancy bundle offer going on right now!
2 Responses