Aug 20 2013
I know I said I'd post pictures from my San Francisco trip, but omg you guys!! Check out what I made last Sunday: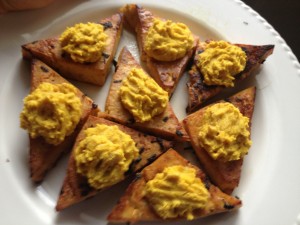 Look at them! They have yolks! They're adorable! They tasted so much like eggs my egg-hating husband almost gagged when he tried them! SUCCESS!
Anyways. My friend Raechel was making ramen for dinner, and I felt inspired to make an egg to put on top. These are definitely more like deviled eggs than poached (they'd totally be great at a picnic with some paprika on top) but they worked great in a soup application, too. Here's how:
Vegan Eggs
For the "whites"
1 block extra firm tofu, pressed as well as you can press it
2 tbs rice wine vinegar
1/3 c strong chicken-flavor broth
2 tbs soy sauce
1 tb nutritional yeast
pinch turmeric
Cut your tofu in half, lengthwise (two long blocks) then in half, then in half again, to make triangles. Submerge in marinade (after pressing) for at least an hour but longer is better. Meanwhile, make your "yolks."
For the yolks
1 cup chickpeas, pureed
1 tb mayo
1 tb mustard
1 tb nutritional yeast
1 tb rice wine vinegar
two pinches turmeric, or until the color you want
black salt (to taste)
Mix everything into a paste. Chill in a little tupperware or something, until your eggs are ready to be yolked. I say black salt to taste because some people really can't handle that sulphur taste; others really like it.
To assemble
Preheat oven to 425. Spray a baking sheet, and arrange your "whites." Then take a little spoon and carefully cut a shallow, quarter-sized divot in each white, discarding the divots. Spray tops of tofus. Bake 15 minutes, flip, bake 10 more. Remove from oven, flip over again so divots are face up, set oven to broil. While your broiler is heating, spoon scant tablespoons of the yolks into the divots. If you felt like it, you could totally put this stuff in a pastry bag and pipe it into some real deviled-looking eggs. Broil until the yolks are a little crunchy-looking and golden brown. Remove, cool. Eat!
Seriously pretty atop some ramen: