Sep 17 2012
Whee! Last week I remarked that I, at long last, had completed a piece of fiction. Well, huzzah, for I have now sold that piece of fiction! I'm super-happy to announce that my short story, "Ho Pais Kalos" will be appearing in Geek Love: An Anthology of Full Frontal Nerdery, edited by Shanna Germain and Janine Ashbless. I'm really honored to be a part of this project, along with Wendy Wagner, Camille Alexa, James Sutter, John Nakamura Remy, and other fine folks. Many thanks to the editors, staff, and everyone else associated with this project.
The other exciting thing I saw late last week was my final-final cover for A Pretty Mouth! I can't believe it, but the book went to the printer last Friday. The final cover, which you can see below, has some new fonts going on (which I adore), and also added sparkly stuff in the form of blurbs from Laird Barron and Caitlín R. Kiernan. I'm starting to get butterflies over the imminent release, in a good way. I think. But it's too late to change anything now, so that means the time for worrying about whatever is past!
BEHOLD: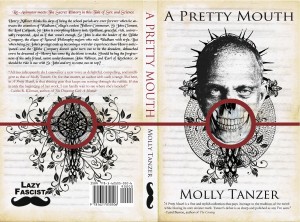 I love it! And many thanks to Laird, Caitlín, and everyone else who blurbed/edited/helped/read/everything-elsed with this project. Also, just a reminder, but I will send a .pdf to those interested in reviewing the book on their blog, on a review site, or on Amazon (when the page goes up).
Speaking of Calipashian goodness, one of the stories in A Pretty Mouth is now available for purchase! The Book of Cthulhu II is now shipping from Amazon and has also been spotted in bookstores. So, if you're desperate to read "The Hour of the Tortoise," get it now! You'll also be getting stories by Neil Gaiman, Caitlín R. Kiernan, Livia Llewellyn, W.H. Pugmire, Laird Barron, Orrin Grey , and many more.
Finally, Coming Together: Arm in Arm in Arm is out! The kindle price is only $3.99, and that goes to Oceanea, a charity devoted to helping the oceans. Go buy it! I have porn in there, it's Lovecraftian, it's weird, I dunno. I also have a .pdf, so if you'd like to review the book, please email me and I will send it to you if you're one of the first five people to email me.
My mom's in town, and we're about to get some lunch, so that's all for now!
Comments are closed.