Jul 27 2012
This has certainly been a strangely Lovecraftian year for me! I'm not sure when it began, but so far I've placed three Lovecraftian stories, attended/participated in the Lovecraft Film Festival/CthulhuCon, and then this October, my sort-of kind-of Lovecraftian collection, A Pretty Mouth, will be coming out through LFP (a press that, by the bye, has been in the news quite a bit recently! Super-proud of my publisher and my fellow LF author Patrick Wensink).
The first Lovecraftian story I placed is forthcoming in The Book of Cthulhu II, and is one of the pieces that will be in A Pretty Mouth. Super-stoked to work again with Ross Lockhart, who rocks. But since then…
Nate Pederson, working for PS Publishing, is putting together one of the coolest concept anthologies I've ever heard of. I was a bit nervous when he contacted me, frankly, but it turns out I acquitted myself well enough that once again my Lovecraftiana is hanging out with stories written by my heroes and peers. Whee!
The Starry Wisdom Library …. well, Nate puts it better than me here:
What if, on the eve of disbanding, the Church of Starry Wisdom organized a rare book auction of the various tomes in their collection? What if the accompanying auction catalogue was privately published and privately circulated, disappearing for over a century until its recent rediscovery in the archives of Miskatonic University?  What if we could read the 1877 original today?

My new (and first) anthology for PS Publishing is just that: a "facsimile" publication of the 19th century auction catalogue, entitled "The Starry Wisdom Library: being a catalogue of the unsurpassed occult library held by the recently disbanded Church of Starry Wisdom, offered for sale at private auction Midsummer's Eve, 1877 by Messrs Pent & Serenade of Arkham, Mass." The anthology will be presented and designed exactly like a 19th century book auction catalogue, with entries describing the major books in the Church's collection, accompanied by essays from "noted scholars" on the history of each dread tome. The "noted scholars" will be contemporary horror and speculative fiction authors.  Their contributions will be similar in length and content to Lovecraft's own "History of the Necronomicon", a slightly edited version of which will also appear in the catalogue.
Fuck yes! And fuck yes to Liv Rainey-Smith illustrating it. I was privileged to see her art first-hand at the Lovecraft Film Festival, and it's perfect. A triple fuck-yes to the list of contributors, among them Ramsey Campbell, Michael Cisco, Silvia Moreno-Garcia, Livia Llewellyn, Nick Mamatas, Joe Pulver, and Genevieve Valentine. More on the way, too, from what I hear!
My book was the Hieron Aigypton, one of those myriad way-obscure eldritch tomes that had only the briefest of descriptions: Written by "Anacharsis" around 200 BC, it contained a description of the dreaded ritual called miri nigri, and the "Revelations of Anacharsis." This vagueness allowed me to do so much with the project that was self-directed and awesome, and I had a lot of fun with it. I'm proud of my piece and I know the whole anthology will be cool and beautiful.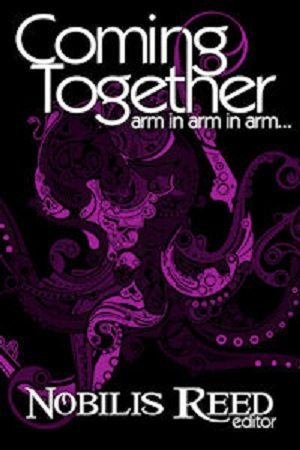 My third Lovecraftian placement this year is my Victorian pornography/Lovecraft mashup about wanton fornication, magic drugs, and tentacles, "Holiday at Two Hoots." It will be appearing in the anthology Coming Together, Arm in Arm in Arm, a charity anthology of tentacle porn. Proceeds will benefit Oceana, an organization devoted to conservation and protection of the world's oceans. Fuck yes! I'm really happy to be in this, and I hope anyone who has enjoyed anything I've written that's even mildly naughty picks it up. It's for a good cause, after all. Here's the contributor list, and the article about the antho that was featured on io9.
Very happy and proud to be a part of all these project, and I'm very happy indeed to see how beautifully A Pretty Mouth is coming along. I should be able to reveal the cover soon. I've seen a draft and it's stunning. I can't wait to show the world! But I must, as with all things.
That's all for now. Be well, and healthy—and read lots of Lovecraft!