Nov 21 2011
Thanksgiving is always awesome here in Boulder. Between Raechel and Jesse/John and myself, we loaf around, watch movies, make too much food, and it's always amazing. The menu this year, for example, is Tofurkey, stuffing, garlic mash & gravy, brussels sprouts, cranberry sauce (from the can, what), deep dish apple pie, and I think a pumpkin cheesecake. What.
I love Thanksgiving flavors too much to confine them just to the Big Day, though, and last week I wanted to do a Thanksgiving Warm-Up for dinner without spending too much money or time in the kitchen. The answer? Thanksgiving Cheatballs. Made with Gimmie Lean, veggies, and whole wheat breadcrumbs, each cheatball has over 8g of protein and is only 108 calories. And just look how delicious: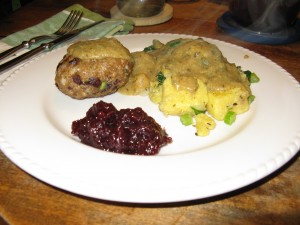 Pictured here with the Polenta Stuffing and the Silky Chickpea Gravy from Appetite for Reduction.
Here's the recipe! Perfect for a weeknight where you want Thankgsiving in miniature, or as a main dish on T-day when you're burned out on too much Tofurkey!
Thanksgiving Cheatballs
1/2 c dried cranberries, chopped
1/4 c breadcrumbs
1/3 c finely chopped celery
1 shallot, minced (or 2 tbs minced onion)
1 tsp red pepper flake
1/2 tsp dried rubbed sage
1/2 tsp dried ginger
1/2 tsp garlic powder
black pepper to taste
2 tbs fresh sage (optional)
1 tube Gimme Lean Sausage
Preheat oven to 400; spray the bottom of a 9×9 casserole.
Mix everything but the sausage together until the ingredients are coated w/the spices and whatnot. Then add the tube of Gimmie Lean and work it with your hands like a meatloaf until well combined. Form into 6 cheatballs and put in casserole dish, spray tops w/spray. Cook for 30 minutes, flipping after 15 and re-spraying the tops. Eat!
4 Responses