Oct 5 2011
My girl Raechel and I went in on an ice cream maker this summer, and have been making all kinds of crazy things! Pineapple upside down cake ice cream, salted caramel ice cream, strawberry oreo ice cream … just about everything you could imagine. But we've also made a bunch of sorbet, and this Triple Ginger Chocolate Sorbet was particularly delicious.
Triple Ginger Chocolate Sorbet (serves 4)
1 c sugar
1/2 c cocoa powder (I used Ghirardelli)
1/4 tsp. ground ginger
1/8 tsp. salt
1 thumb-sized knob of fresh ginger, grated well
2 c water
1/4 c freshly-brewed strong coffee
1/4 c candied ginger, chopped very fine
In a saucepan, mix sugar, cocoa, ginger powder, grated ginger, and salt. Pour in 2 cups water and the coffee. Cook over low heat until the ingredients are dissolved. Transfer to a bowl and refrigerate until very cold.
Freeze the mixture in an ice cream maker using the manufacturer's directions; in the last five minutes, dump in the candied ginger and churn until incorporated. Place soft-frozen sorbet in a plastic container and freeze for 1 hour or overnight, until firm enough to scoop.
You could probably make this Quadruple Ginger Chocolate Sorbet by putting in a shot of that Canton ginger liqueur, but I didn't have any and it's plenty gingery like this!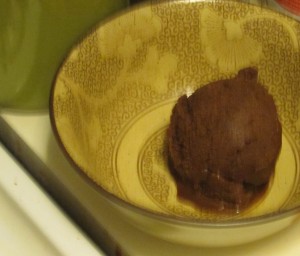 4 Responses