Apr 4 2011
I'm happy to announce that my article on the Choose Your Own Adventure series has gone up on Fantasy Magazine! It was a lot of fun to write, mostly due to the awesomeness of my friends who were willing to be quoted/interviewed, and the series authors I was privileged to speak with, Edward Packard and Ellen Kushner. Fun times! And while you're over at Fantasy, be sure to check out Kat Howard's fiction, "Choose Your Own Adventure," which inspired my piece, and J.T. Glover's Artist Spotlight on the artist who did our cover this month, Max Bertolini.
April means a few publications for me! Later in the month I'll have an Author Spotlight on Fantasy, where I got to interview Jonathan L. Howard about his upcoming story for our magazine—and while he and I were emailing back and forth, I did another interview with him for Strange Horizons. I'll post about those when the time comes!
But let's chat about the real reason people are on the internet: pictures of cats.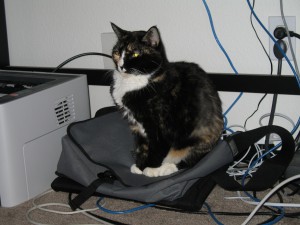 Last summer my beloved calico kitty Penelope (AKA "the Pod") passed away after a battle with fatty liver disease. She was incredibly special, and was with me for only 11 short years. There is no way to explain how much I loved her. She was around when I graduated high school, there for me when I'd visit during college, and I brought her with me when John and I moved in together my senior year. She came with me when I graduated and moved to Fort Pierce to do social work, and to Tallahassee when I went back to school for my Master's. She was in the plane with me when I flew to Boulder to live here. So many major life moments together! I still miss her so much.
She and I had a ritual where every night she would jump up on the bed (after "asking permission" with her special meow), and she would snuggle up in my right armpit. Never the left! She was a weird cat. Anyways, we'd snooze like that until she decided it was time to move to my feet and sleep there for the night. It was always such a great end to the day! Any stress or unhappiness just melted away as she purred and purred. She'd also get in my armpit to sleep when I would study on the couch. Usually it would make me sleepy, too, but the Pod felt naps were more important than grad school, and how could I argue with the wisdom of cats?
Therefore, to honor all those happy hours we spent together, I got a tattoo in that exact spot: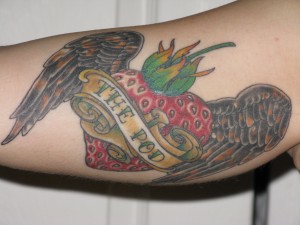 The wings, as you can see, are calico, just like her. The strawberry motif I picked because her favorite toy was a catnip strawberry. She never let our other cat play with it. It was hers, and she loved that thing to the last—literally. When the vet came to put her to sleep, we could tell she was nervous having so much attention paid to her. She was always a little shy with strangers. I put her little strawberry in her heated bed with her. Seeing it, she was able to relax and not be so scared.
I miss my gentle kitty, and now she is still a part of me.
But enough sad stuff! Here she is as I remember her best, looking longingly at other people's food. . .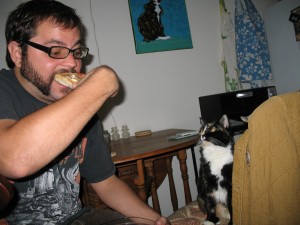 AND THEN STEALING IT!
Crazy cat lady before 30? That's me!
4 Responses